Review:
The Vesta Conspiracy
by Felix R. Savage
I got to read this for free by participating in a non-reciprocal review programme on Good Reads.
Richly imaginative doesn't do this justice. Try to imagine the kind of opulently detailed solar culture a super-computer with a penchant for writing SF might come up with. The plot is convoluted and clever, as are the variety of characters. The story is downright frightening at times.
For me, the main negative was the density of jargon specific to this universe. That made getting into the story more difficult than it might otherwise have been. Yet it must also be said that the same ubiquitous use of jargon, odd terms and mysterious acronyms made Savage's world more real and more immersive.
The pace begins quite deliberately, but picks up steadily, in the same way as the load on a rail-gun accelerates. The use of virtual reality and 'phavatars' (physical avatars) is another factor which leaves one with a vertiginous grip on one's point of view.
I gather that this story is the second in a series, but it stands solidly as an independent read.
In conclusion I think the author is hugely talented, but writes in a style that will leave some readers behind. Nevertheless, you should absolutely read at least one of these and decide for yourself.
What I'm reading now:
Descent into Mayhem
by Bruno Goncalves
I used the Amazon cover; I think it looks better than the Smashwords current version!
At 25%: Soldier, suit up! And push that big red 'BUY' button!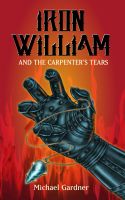 Iron William and the Carpenter's Tears
by Michael Gardner
I recently read a beta sample of the prequel, which was excellent.
Added to my To-Read List:
The Tree of Everlasting Knowledge
by Christine Nolfi
The Rabbit Ate My Homework
by Rachel Elizabeth Cole
At One's Beast
by Rachel Barnard