Review
Iron William and the Carpenter's Tears
by Michael Gardner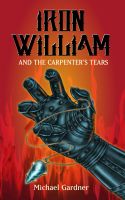 'Iron William' Kidd, who acquires the apt soubriquet in this story, has a mission impossible thrust upon him. It's not his fault, but neither does he have any choice, not if he wants to live - and the Church of Rome would make a deadly enemy. Although the story is fiction it is set in the competently replicated historical period of the Reformation, in the mid-16th Century. The action takes place in Mediterranean Europe, in fact across most of it, from one end to the other and half-way back again.

There are a number of clearly defined characters in this book, in addition to Kidd himself, both friends and enemies. Kidd is particularly well done, and the main characters are all well drawn. William Kidd has an arch-enemy in Hamilton Rush and the dearest desire of each is to see the other dead, by fair means or foul. Pages turn easily, the pace accelerating nicely towards the brilliant conclusion.

Somewhat reminiscent of Sam Llewellyn's 'Gurney' books, from the reader's perspective Iron William's adventures are as fun-filled and action packed as those of any Tomb Raider or Indiana Jones. On land or at sea the crises are relentless, and William must dig deep within to find the resources to be true to himself, whatever the cost. Strongly recommended to anyone who enjoys a rousing historical adventure.
Currently Reading
At One's Beast
by Rachel Barnard
Will be a free ebook on Amazon on December 18 and on Christmas Day -
I'm half-way through it and can confidently say, go on, treat yourself!
Ataxia and the Ravine of Lost Dreams
by Rachel Barnard
I was going to read this next but got temporarily sidetracked by the above!
Added to my reading list
Mercenary
by David Gaughran

This is probably Bruno Goncalves' fault.
See my review of Descent into Mayhem!